Recipes
---
In order not to waste any of the squid after we extract the chitin for our research, each group member has learned how to cook a squid based dish. In reality, we do not extract the chitin in house, but it is fun to learn how to cook and share the dishes at group parties. Some group members (mainly Prof. Rolandi) cannot wait to start researching chitin extracted from lobster shells.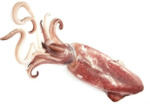 Sauteed Baby Squid (Calamaretti Saltati Piccanti)
This is a recipe from my mother. I watched her make this dish as a kid, but I do not know the exact quantities. Eyeballing and adjusting to taste are in the spirit of Italian cooking.
Ingredients:
8 baby squid (calamaretti)
extra virgin olive oil
2 cloves of garlic
2 fresh tomatoes on the vine (small)
a splash of dry white wine
curry powder
salt
chilly pepper
parsley
Ideally, buy the baby squid fresh from the market (whole) and clean them. Do not throw away the tentacles (the best part!). If you cannot find fresh baby squid, thaw the frozen squid thoroughly. Dry the squid on a piece of paper to remove excess water.
Chop the garlic, the tomatoes, and the parsley. Once you start cooking things will go really fast.
Pour some extra virgin olive oil in a pot (ideally clay) and place above high heat. The oil needs to get really hot, but not fuming. Place the squid in the hot oil (be careful -- it will now start to get messy). Add a pinch of curry powder and the chilly pepper. After one minute, add a splash of dry white wine. Cook on a high heat for couple of minutes total. The timing depends on the size of the squid, the smaller the shorter they need to cook for. The key is to slightly cook the squid, but do not overcook them. They become rubbery otherwise. Now add the garlic. Turn off the heat (the clay pot will keep everything warm). Add the fresh chopped tomatoes and the parsley. Do not use tomato sauce, or canned tomatoes. These tomatoes will overpower every other flavor. Taste and add salt, if needed. This dish can be served on its own as an appetizer. Or on a bed of rice, or couscous as a main. It also works well with spaghetti if you add one more tomato.
It pairs nicely with a glass of Ceretto Blange Arneis 2009 (just a glass- don't drink too much!)
Prof. Rolandi
Pan-fried spicy squid
My hometown is in southwest China. People there love spicy food. I learned this dish from my grandpa. It's spicy, but also has a little bit sweet and sour taste to balance the flavor.
Ingredients:
1 pound of large squid
15 dried whole red chili pepper (you can also use green pepper to make it less spicy)
5 cloves of garlic
3 tablespoons of soy sauce
2 tablespoons of vinegar
2 teaspoon of sugar
ginger
green onion
salt
Steps:
1. Mix the soy sauce, vinegar and sugar in a small bowl, stir until all the sugar dissolves. Set it aside for later use.
2. Clean the fresh squid, take out the squid pen and wash away the ink inside. Cut the squid into shreds, about 2 inch long. If you are using dry squid, soak them in water until they are soft (up to 24 hours) before cutting.
3. Chop the garlic into slices, ginger and green onion into shreds. Cut the dried red chili pepper into small pieces, about 0.2 inch long. In case you are using green pepper, cut them into the same length as the squid.
4. When the pan is heated up above high heat, pour in some vegetable oil or peanut oil. Wait until the oil gets really hot, put the squid into the pan. Stir quickly. Let the squid spread in the pan evenly. When the squid are almost cooked, add some salt to taste and turn off the heat. Don't overcook the squid in this step. Take the squid out and put them into a bowl for later use.
5. Pour some oil into the pan. When the oil gets to medium heat, put in dried red chili pepper, garlic and ginger. Cook under medium high heat until you can smell the aroma from the spice. Then put in the squid, and add the sauce prepared in step 1. Cook for about 1 minute. This time the squid will be fully cooked. Turn off the heat. Add the green onion at last and slightly mix them with the squid. Now it's ready to serve!
6. The dish goes well with rice. If you have some leftover sauce, save it to mix with noodles.
Yingxin
Squid sundae
Koreans very much enjoy squids with a variety of cooking recipes. People even make jerky out of squid and often enjoy the squid jerky with beer and peanuts. Want to hear one more surprising recipe? Koreans also enjoy raw squid sashimi!! Here, I'm introducing a Korean squid recipe of cooking "Squid sundae", which is analogous to western sausages. The recipe is super simple.
Ingredients:
1-2 Fresh squids
1/2 Tofu
carrot
yam noodles
wheat flour
pepper
salt
egg
Steps:
1. Prepare a mix of chopped carrot, green onion, yam noodle, and mashed tofu (yam noodles should be softened by soaking them in water).
2. Take one egg and two spoons of wheat flour to the above mix, and make a paste mix (season the paste with salt and pepper).
3. Clearly empty and wash the inside of squid, and coat the inside with wheat flour. (Tip: put a spoon of wheat flour inside the squid and simply shake it.)
4. Fill up the inside of squid with the above paste mix and seal the squid with a skewer.
5. Steam the filled squid for 30 mins.
6. Slice it and enjoy with Korean traditional liquor, Soju, which is the world's best-selling liquor. (Tip: help yourself with your own sauce or Korean spicy sauce.)
Jungho
Southampton Fried Squid Rings
Ingredients:
2 lbs squid, whole
2 tablespoons lemon juice
1 teaspoon salt, if desired
1/8 teaspoon white pepper
2 eggs, beaten
1-3 cups milk
2 cups Italian flavored bread crumbs
Oil for frying
Steps:
1. Clean squid and cut tubes into half-inch rings, and tentacles into bite-sized pieces.
2. Sprinkle lemon juice, salt and pepper on squid. Combine milk and egg.
3. Dip squid in milk and egg mixture and coat with bread crumbs. Shake off excess crumbs.
4. Pour oil about an inch deep into a heavy skillet. Heat the oil until it is quite hot but not smoking (375° F).
5. Add the squid pieces, a few at a time, to the skillet without crowding.
6. Cook until crisp and golden, about 45 seconds per batch.
7. Remove and drain on paper towels.
8. Allow oil to return to its original temperature before putting in the next batch.
Rachel
Squid Soup
I am from east area of China. It is close to the ocean. I had lots of seafood when I grew up. So I love seafood. Here I am sharing one of my favorite seafood dishes. It tastes so good, smells so good. It is squid soup.
Ingredients:
Dried squid
Shiitake (a kind of mushroom native to East Asia)
Jelly Ear (a species of edible Auriculariales fungus)
Chinese date (also called jujube)
salt
Steps:
1. Before cooking, the dried squid needs to be soaked in water for 6 hours until it is soft.
2. Cut the hard stem part of shiitake away, slice the Jelly Ear into small pieces.
3. Clean the squid and peel off the thin layer of skin.
4. Put everything in a bowl, add water and cook it for 20 minutes. Add salt according to your taste.
5. Squid Soup is ready. It is easy and really tastes good.
Wei
Boiled squid with daikon (or turnip)
Ingredients:
1 fresh squid
1/2 daikon (or 1/2 turnip)
3 cups Dashi soup (boil water with 5-10g dried small sardines around 5 minutes, then remove all sardines from the soup)*
3 talbespoons of sake (or white wine)*
1.5 tablespoons of sugar*
4 tablespoons of mirin*
4 tablespoons of soy sauce*
Steps:
1. Cut squid into bite-sized pieces and daikon into round slices about 1.5 inch long.
2. Preparatory boil daikon (ideally, with the water washed rice that results in the softness of daikon! ) and washed in running water.
3. Boil pre-boiled daikon with mixed * soup, it must be covered with a drop lid, under mid high heat for 30mins.
4. Remove the lid and add cut squid into the pot, then boil down.
Takeo